June 24, 2001 - Sunday - Isabela Island (Albemarle) - Punta Morena
Isabela Island (Albemarle) - made up of 6 former volcano-created islands; Cerro Azul, Sierra Negra, Alcedo, Darwin, Wolf, and Ecuador volcanoes.
After a long night of sailing, at about 12:30 AM, we dropped anchor off Punta Morena. Jonathan said we had a relatively mild trip around the southern part of Isabela.
After a french toast breakfast, we went by panga to the Sierra Negra Volcano on Isabela. Today is a 2 mile hike through lava rocks.
Lava flows joined the six separate volcano-created islands into the largest in the Galapagos. Punta Morena is the volcano on the west coast - with rugged lava fields formed by eruption of Sierra Negra.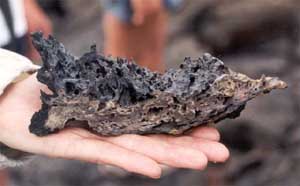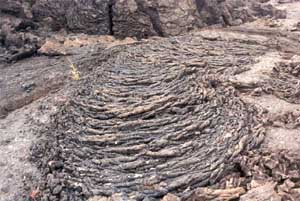 The trail was entirely lava flow sheets. Rolls of lava as if satin were pushed across the table. Sheets of lava broken up into giant plates. We saw several lagoons with rich clear water and bright green reed growth.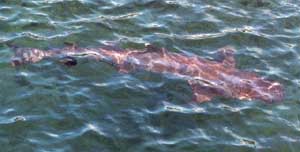 In one lagoon, two flamingos were pairing off. In another lagoon, white tipped sharks were swimming around.
One large puffer fish passed by. Later on, we saw a large marine iguana just sitting on the lava. As we were leaving, we saw another huge marine iguana just back from the water, sunning himself.
As we left on the panga, we were accompanied by a leaping sea lion who jumped in and out of the white caps. Altogether it was about 2.5 miles of walking. Not as serious a trek as I'd expected, but manageable and relatively flat.
Elizabeth Bay - green sea turtles
After lunch, another nap. Then about 3-ish, we went by panga into Bahia Elizabeth and the mangrove lagoons. Large green tortoises were swimming on the edges of the mangroves.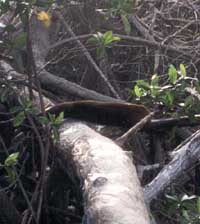 One sea lion was perched on a large mangrove log. This particular log was a frequent haunt of the animals, apparently, as the log was shiny with wear and polish of use over the years.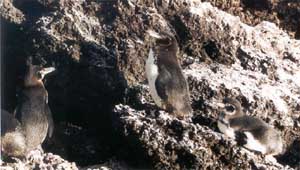 Next we went over by panga to two small islands, the Marianas, where penguins were perched on the interior side. Again, one lone cormorant and another sea lion sleeping on a giant rock.
Tonight we'll stay in the bay until departing at about 4 AM to go to Bahia Urbana, again on Isabela.
The sun set on the lush green mangrove trees and the sky bristled in the light of the sunset.