June 20, 2001 - Wednesday - South Plaza Island; Santa Cruz Island (Indefatigable)
South Plaza Island - sea lion harems, patrolling bull sea lions, bachelor sea lion colony; land iguana; Opuntia cacti, marine iguana, swallowtail gulls, Audobon shearwaters, re-billed tropic birds.
While yesterday started with a gentle cloud burst, today started out with simple clouds broken by sunshine. The terrain is greener on Plaza Island. This morning is a 2 hour (2 km) walk followed by snorkeling.
Santa Cruz Island (Indefatigable) - Puerto Ayoro on the south coast; Charles Darwin Research Station; bus to highlands north of Santa Rosa; giant pit craters - single and double caverns of collapsed volcanoes called Los Gemelos (The Twins); lava tube; Giant Tortoise Preserve in Buena Vista.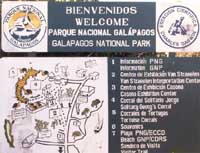 This afternoon we visit the Darwin Research Station at Puerto Ayora on the south side of Santa Cruz Island (Indefatigable).
We walked all though the Darwin Research Station. Jonathan Green's photos are all over the islands in photo books. We strolled down the small two lane road that goes through downtown.
Gary, our seasick traveler, finally got dropped off at the Hotel Galapagos in Puerto Ayora on Santa Cruz Island - probably one of the few hotels on any of the islands -- to see if he could stabilize his either seasickness or viral infection. His wife, Ruth, stayed with him. Jonathan finally got him an anti-vomit shot.
After checking out all the t-shirt shops that flank both sides of the street, we reconnoitered at the far end of town at the harbor - really the center of activity for the island.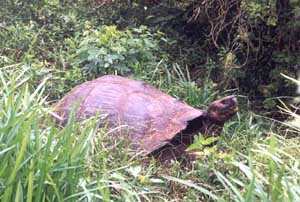 Our day trip included a visit to the giant tortoise breeding nests serving all the Galapagos Islands and to the research center's display describing how, back in the days of pirates and privateers, the giant tortoises' native stock was decimated by crews stocking up 200-300 in their holds -- packed the poor animals upside down so it was not possible for the food supply of several months to "walk away".
Lonesome George is the last of his particular species of tortoises -- he has no known mate, no known year of birth or age.
After a brief side-trip to gather new supplies of the local equivalent of dramamine, it's back to the Andando. Usually, when we return from a hike, they have some munchies for us as well. Once it was POPCORN - yea!
Dinner tonight was home-made pizza with fresh tomatoes probably from one of the markets in Puerto Ayoro. Our Captain is from Santa Cruz, with Puerto Ayoro one of the largest communities throughout the islands.