June 21, 2001 - Thursday - Santa Cruz Highlands and Santa Fe Island (Barrington)
During our walk today, Fereydoon got quite burnt, lost a hat, bought a Galapagos hat - with a string this time.

Last night was the 16th anniversary for Justin and Mary Lee Collin. Last night was calm in harbor, finally. The night before was pretty rough at sea, with the long distance against the south-to-north Humboldt Current trade winds that follow the South American Coast line. The 3 Collin kids went swimming off the boat last night, but we were sound asleep and didn't hear a thing.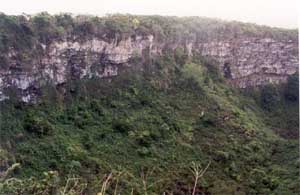 Today, we take a bus to the Santa Cruz highlands for a hike (North of Santa Rosa). We saw about 4 truly giant tortoises - and followed their paths.
We saw caverns where the volcanoes had collapsed in on itself. One was a single cavern, while later on we saw a double cavern.
We walked through a lava tube - following on the surface of formerly underground molten lava, retracing the flow's path back to its source. At one point, an albino avocado seed had sprouted two stalks and grew white, color-free leaves reaching out toward the electric light source.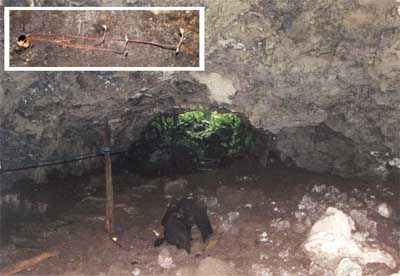 Today, Gary was now fully recovered and able to re-join us in our various treks. He followed Fereydoon through the pitch black lava tube trail -- guided by the tiny reflection from the back of Fereydoon's running shoes. It was great to have Gary whole again. Later on, we learned that he was an aficionado of crossword puzzles -- so it was fortunate that we brought our puzzle book for late night entertainment. He was very good at puzzles, too!
Our guide for the Giant Tortoise Preserve in Buena Vista was the area's warden for the Ecaudorean Park Service as well as being a farmer who raised cattle, and a bartender for the only rest stop/pub in the area. He had built the structure and interior himself.
Upon our return to the ship, we had another nice lunch of Ecuadorean fish stew, salads, and a chicken rice entree. The meals have been generous, but light - usually bean salads and a main dish. Very tasty.
Santa Fe Island (Barrington) - tall stand of opuntia cactus (prickly pear), endemic Santa Fe land iguana (bright yellow).
After lunch, a two and a half hour sail to Santa Fe Island (Barrington), south-east of Santa Cruz.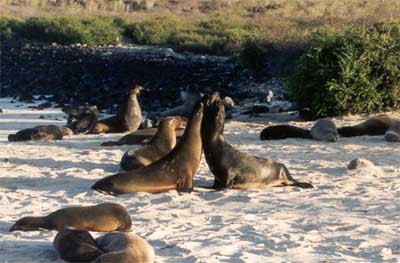 We just returned from hiking around Santa Fe Island. The beach was full of sea lions - one had been attacked by a shark and was dying on the middle of the beach. We hiked inland on a horseshoe-shaped trail - very rocky with lava, not high with crags, but fatiguing nonetheless. No iguanas or mice were seen, but Jonathan swears they are there. Several mocking birds, lots of red crabs, and some pelicans.

On the beach, the immature sea lion males play like they are attaching each other - in preparation for future, real challenges.
En route back to the Andando, the water was crystal clear and only about 10 feet deep. We saw several manta rays and 2-3 green sea tortoises bobbing their heads in the water.