June 27, 2001 - Wednesday - Santa Cruz Island, Baltra Island and Quito
Caleta Tortuga Negra - panga ride through mangrove-rimmed lagoon, green sea turtles, rays and sharks.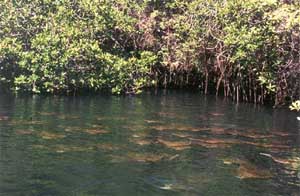 Today is full of "lasts" - the last breakfast, a last panga ride to Caleto Tortungas Negra (Black Turtle Cove) mangrove lagoon where we saw school after school of manta rays, black fin sharks, blue footed boobies, pelicans, and tortoises all bobbing in and out of the water. We turned off the motor of the panga and paddled deep into the lagoon and hushed while the schools of manta rays swept silently by the little boat. A real delight.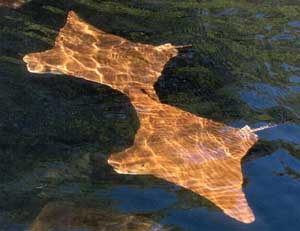 Baltra Island - return flight to Guayaquil and Quito.
Now, back on board again, we pack and head over to Baltra to disembark for the flight back to Quito via Guayaquil.
Singing guestbooks, getting phones and emails. Just a couple of hours more on the Andando. We had a group photo of the crew on the bow. Good times.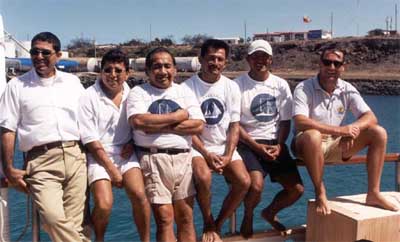 Captain Lenin Cruz
Augostine - chef
Marcello - panga driver
Geoffrey - dining set-up
Enrique - engineer
Jonathan R. Green - Galapagos Guide and photographer and designer of Molten Lava Hot 'n Spicy Sauce -- a favorite of hardy Galapagos Hikers with Palates of Steel.

That night we had a wonderful dinner with Jonathan Green, Edna Hickok, Gary and Ruth Friedman, Sink and Barbara Manning at the second of Jonathan's favorite restaurants - Rincon de Francia (A Corner of France). And so we bid adieu to all our friends on The Andando and a wonderful Ultimate Galapagos tour.